We all know that kids learn faster as compared to elders. Life skills are paramount and, all kids should learn them. Either for safety purposes or to help them become self-reliant. We have listed these essential life skills for kids to help you out. So, you don't leave out anything. Do you remember what life skills your parents taught you? These are the same as those.
These life skills will help your kids gain confidence, become successful and cope with the hardships of real life.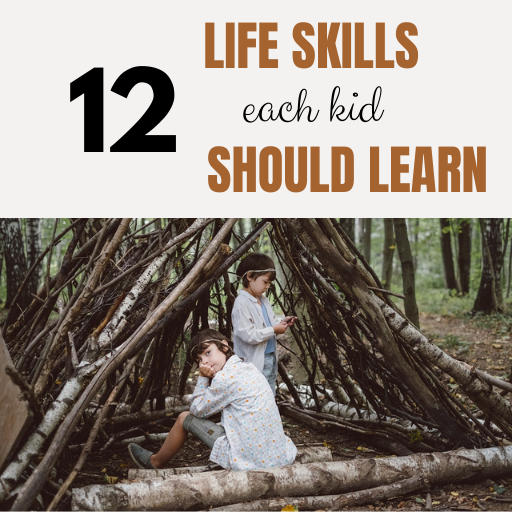 Essential Life skills for kids
These are the 12 life skills each kid should learn. A free printable is included in the end.
1) When and how to call 911 in an emergency and a few first aid principles

Life is so unpredictable and, it is our responsibility to prepare our kids for this unpredictability. Kids are curious little beings and, they can get injured anytime. Teaching first aid will equip them for complex situations.
2) How to prioritise and manage time – Life Skills for Kids
Time management makes you efficient and more productive. If you learn to manage time once, this is the skill that will help you throughout your life. Good time management will also give your kids satisfaction and, they will accomplish more. We have a range of timetables and planners for families that you can download for free to help your kids prioritise and manage time.
3) How to save, value and invest money
Kids should learn to value money at a very young age. They should know how to save money and where to spend it. There are many creative and effective ways to help kids build good money habits.
4) How to clean house and wash dishes
Decide age-appropriate chores for kids and ask them to help you in doing them. You can reward them with stickers to get them excited. Helping with household chores will keep kids busy and, they will also learn the importance of cleanliness and tricks to do it.
5) Basic social manners and respect
As parents, it should be our foremost priority to teach the kids basic manners. Respecting elders and their experiences in life are crucial. Respect should be there even if we disagree with someone. It's important to know how to handle conflicts without losing manners. And, who will teach this to kids? No doubt, as parents and teachers, we only can.
6) Saying 'NO' – Life Skills for Kids
There are situations in life when you have to say no. We should tell our kids that sometimes it is not rude to say no and, they should. It is vital for their protection and self-esteem. You can look for ways to teach saying 'No' to your kids even if they are shy.
7) Identifying and expressing feelings
It is hard for kids to express themselves. Not being able to communicate their feelings can make them confused and stressed. We need to help them identify and express their feelings in an appropriate manner.
8) How to care, be cooperative and give back
Giving back to community help kids become a better human. Teach your kids about kindness and care and how helping others will, in turn, help them. There are many ways to raise your child to be kind-hearted and compassionate.
9) Basic cooking skills or making something to eat
Cooking skills encourages creativity and innovation. You can start with basic cooking skills and, then you can help your kids do some food experiments in the kitchen.
10) Basic survival skills – Life Skills for Kids
Each kid should learn survival skills. It develops awareness and, your kid will know what to do in emergencies. We need to teach all the basic survival skills to our kids.
11) How to wrap a gift and pack a suitcase
Teach your kids to pack gifts for their friends or their bags when they are travelling. It will make them more organized and responsible.
12) Budgeting skills and shopping
Budgeting is a great way to teach your kids the value of money. It is helpful for them to know how to manage money and how to do smart shopping. You can get your kid to use budgeting worksheets for this purpose.
Click the picture below to download the free printable.