Looking for some free time and leisure activities? The developing stage has a child's mind working in an extraordinary way that develops different capabilities, communication skills, judgment, evaluation, and decision making. How children minds are shaped in this stage says a lot about what type of a future they will have. The evolution makes it vital for parents to maintain a balance between their academic and leisure activities. Too much work or too little work can become problematic – A trade-off becomes necessary. It becomes important to spend free time away from work and stress.
It is vital to give children space to daydream. Thus, they can ponder upon future possibilities, critical thinking, and creative ideas. It all comes down to the quality of leisure time and how we choose for our child to spend the time. I have put down a few fascinating pastime activities for your child to become a happier and successful individual in the long run.
Do not worry! I have got you! I am aware of the dilemma Covid-19 has caused for a child's growth. Therefore, most of these free time activities can be performed best at home and give you the same remarkable results.
Free Time and Leisure Activities
1. Learn new facts
Learning about different countries and cultures can be just as empowering as travelling the world. Learning basics about languages, capitals, and cuisines will teach your child about the multicultural world. This engaging free time activity will help induce diversity, respect, and cohesiveness that helps them become better leads, negotiators, and employees.
On the bright side, it is informative! A child can show off their exponentially increasing knowledge. Check some amazing fun facts for kids.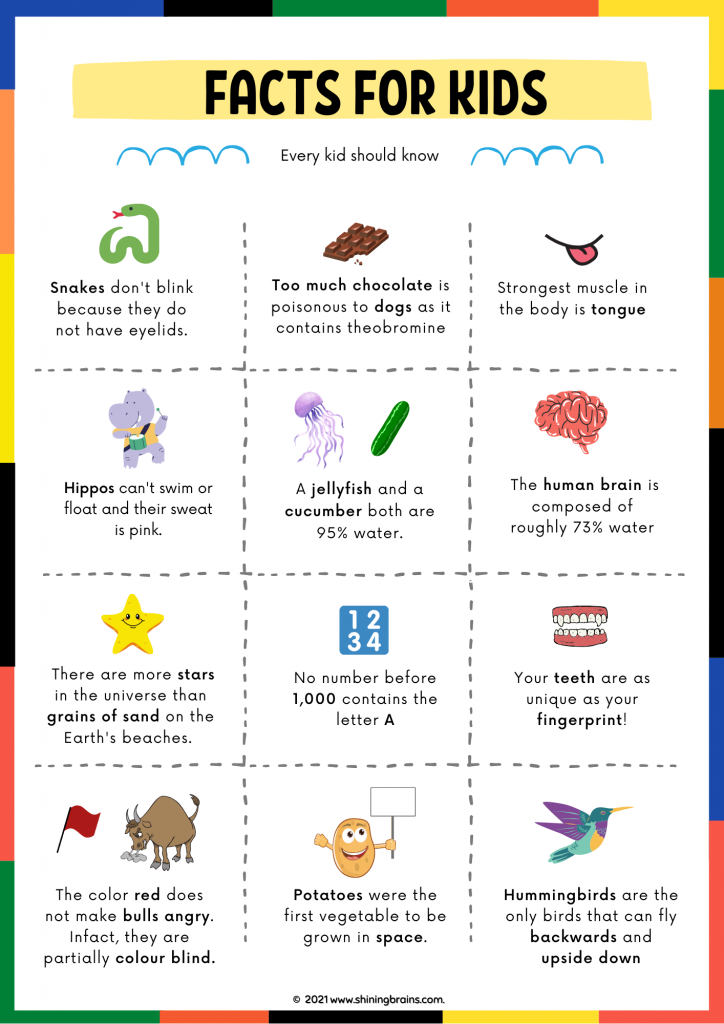 2. Learn a new skill
Learning new skills will have your kid find new ways of thinking and problem-solving. Gardening is a great free time activity that will help your child understand cause and effect; plants will die if you don't water them. They learn about the food chains; Where does the food we eat come from? How does it grow? What type of soil is needed? How much sunlight is required? Gardening teaches a sense of responsibility and awareness. Children also develop motor skills through knitting and sewing. Hand-made things give children a feeling of accomplishment. Skill development gives children more clarity on what they want to do in life. They review what they have the most amount of interest in and then presume them as successful careers. Patience developed will become their key to success! You can also teach your kid essential life skills which will equip your child for the real world.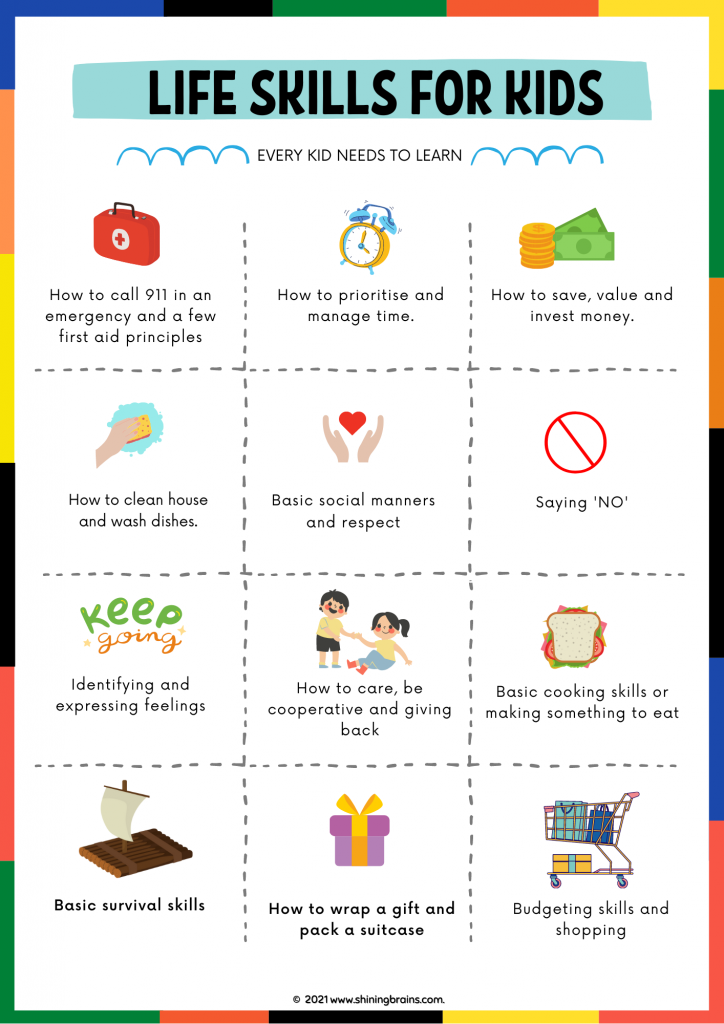 Fun Leisure Activities for Kids
3. Storytelling Aloud
Storytelling is a great way to infuse creativity in your child. Moreover, it is a great leisure time activity as it helps young kids build upon confidence. They feel more empowered over their thoughts and structure them better. Building confidence will help them move forward with opportunities and feel more ready for life experiences. Reading aloud has several benefits, such as building vocabulary, increased attention span and focus. Help them use vivid imagination to construct stories!
4. Preschool Crafts
Children will learn things better once they have done it with their own hands. Craft is always a great pass time activity for kids to develop colour theory and the sense of shapes. They also learn the importance of reusing and recycling for different concepts. Recycling crafts are a great way to teach your kids various concepts. You can teach them the value of time by creating analog clocks or make creative pencil holders with cans. It not only prompts innovation and creativity but also helps improve dexterity.
5. Scientific Experiments
Children are curious beings with tons of questions that need answers. Science influences all aspects of our lives and helps explain lots of phenomenon and concepts that build awareness. Hands-on experiments will help them draw various hypothesizes which turn into discoveries. They learn how and why things occur around them with trial and error. They can go on to identify gaps in theories and aid in the development of the world. Fun and exciting science experiments have the right amount of wow factor for your kids to make careers in science.
6. Outdoor activities – Leisure Activities
Let's not forget how essential physical outdoor activities are for young children. Take your kids out for outdoor leisure activities, such as a picnic or maybe cycling at the local park. It will help develop their overall health and improve peer relations. Hula hooping, jumping on a trampoline, or skipping a rope are all part of embodied learning that promotes intellectual growth. A sense of healthy competition and strategic thinking comes from joining football and swimming clubs. Kids who are involved in healthy outdoor activities become confident and resilient human beings. Outdoor activities bring stability to their overall personality. Outdoor activities with the family will help your child develop soft skills, the ability to understand and acknowledge other beings and fit into a workplace. Communication, work ethic, and adaptability will become part of their traits like never before with outdoor leisure activities.
7. Painting
Give your child a brush and see what wonders they create. Painting helps stimulate the right side of the brain that helps express your thoughts and feelings onto paper. All that stress that has accumulated will wear off. Painting enhances motor skills and cultivates emotional growth. Painting is a sensory pass-time activity that helps the child connect with the procedure more. It also boosts their self-esteem by feeling accomplished with something they have created. Find some creative art activities for kids so they can explore their creative side.
8. Volunteer work
We want our children to become more caring individuals who see the real value in putting effort into helping others. They need to recognize that they have a duty towards other people of the community. They must understand their privileges and be grateful to God. This wholesome leisure time activity will be fun and eventful. At the same time, it will help them succeed in life. They can conduct charitable acts like giving away their unused items, join environmental groups that plant trees or pick up trash. They can feed the homeless, donate money, or stand with a cause. Help your children develop perspective! Want to know more about how volunteering will help your child? Check out these ten reasons to teach kids to volunteer.
Some more pass-time activities for kids: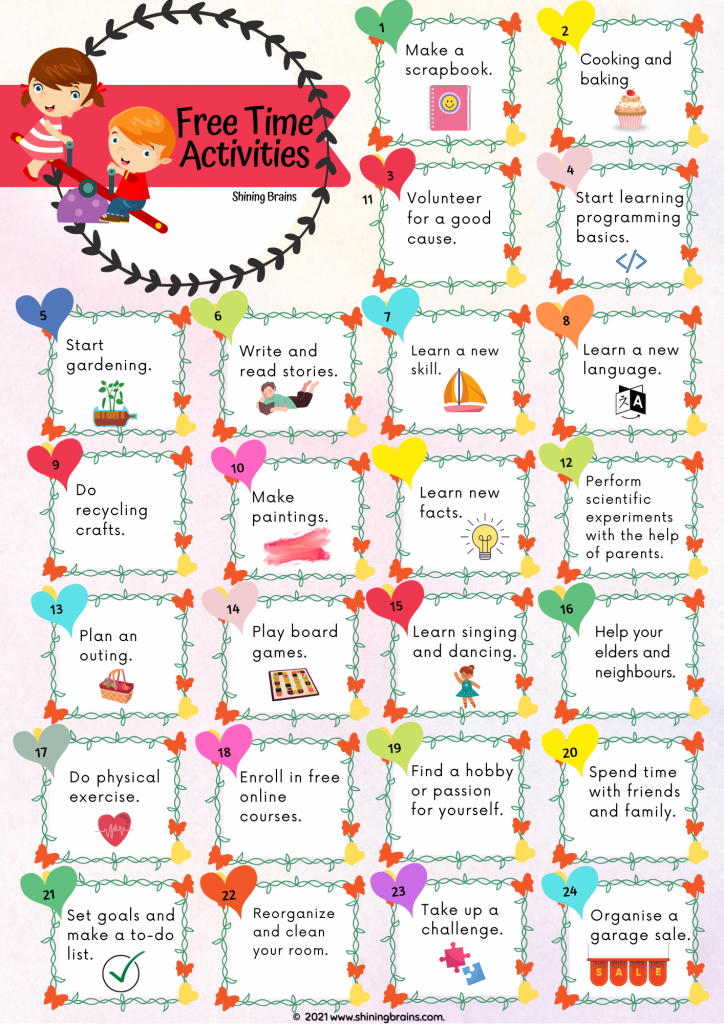 We hope your kids will spend a great time while enjoying these activities 🙂