Colouring is one of the most engaging and fun-loving activity. There is no doubt that children can colour the whole day. According to the research, colouring helps with good pencil control and fine motor skills. The best thing about colouring is that it allows children to brainstorm and explore different colour combinations. Colouring boosts up their imagination which puts a positive influence on their personality and makes them more confident. We have made some amazing printable colouring pages for boys and girls which we are sure your child will love.
Let your kids get creative and express themselves with these magical colouring pages. You can use these fantastic colouring printables as an opportunity to promote your child's creativity and fine motor skills. These sheets are perfect for children of all ages from early years onwards. These colouring pages will keep your kid calm and busy in their free time.
Related: DIY Cardboard Clock
Kids will love to colour these fun colouring sheets as it contains pictures from the fantasy world to space. You can let your little princess delve into the underwater mermaid world or the majestic unicorn world while your little man can enjoy bringing life to the monsters and dinosaurs through colours.
Colouring pages
Download the PDF by clicking the pictures below.
Colouring book
You can download the full colouring book of these 12 colouring pages by clicking the picture below. Have fun with these wonderful colouring pages.
For Unicorns colouring pages check out Unicorns Colouring Printables.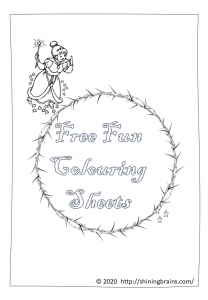 Also check: Alphabet Activity Worksheets for kids