Are you looking for a book review template for older kids? This simple book review template is ideal for grown-up children. Prompt your child to write a book review each time after finishing a book. It will encourage them to brainstorm and share their viewpoint.
Reading books and writing reviews also aids in developing good literacy skills. Other than writing reviews, you can also ask your child questions about the book. Not only they will learn how to analyze and evaluate, but it will also start a healthy conversation with them.
Book Review Format
Book reviews are not just a summary of the plot; they are your ticket to sharing your thoughts, opinions, and insights about a literary work with the world. Crafting an engaging book review requires more than just enthusiasm – it demands a well-structured format that brings out the essence of the book and your perspective on it. Here's a simple format guide to help you master the art of writing a captivating book review if you are writing one for young kids or want your kids to master it.
Introduction: Introduce the author, the book's title, and provide some context about the book's significance. Then, kick off with a catchy sentence that makes us want to read more. How about a sneak peek into the most exciting part?
Peek into the Plot: Give us a taste of the story without giving away all the secrets. Who are the main characters? What's the adventure they're going on? But remember, no spoilers are allowed! Keep it engaging and intriguing to pique the reader's curiosity.
Characters' Corner: Let's talk about the characters. Did you find a friend in one of them? Who made you laugh the most? Share your thoughts and tell us what you liked about them. Dive into the characters' personalities, motivations, and development throughout the story.
Story Themes and Lessons: What did the book teach you? Did it make you see things differently? Maybe it had a big message hidden in the story. Tell us what cool things you learned.
Style Spotlight: Describe how the author writes. Is it funny and clever? Does it feel like magic? Let us know if the words painted pictures in your mind as you read.
Twists and Turns: Discuss any plot twists, surprises, or turning points that added excitement or depth to the story. Did the story have any surprises that made you gasp? Maybe a twist that you never saw coming? Spill the beans on those exciting moments!
Your Feelings Matter: Did the book make you smile, cry, or laugh out loud? Share how the story made you feel and why those emotions were bubbling up.
The Big Finish: Wrap up your review by sharing your final thoughts. Did you absolutely love the book? Would you tell your friends to read it? Tell us if this adventure is a must-read or not, and why you think so.
Remember, a book review is your chance to share your thoughts and feelings. There's no right or wrong – it's all about your unique perspective. Your review could help another young reader find their next favourite book. So, have fun writing, and let your excitement shine through!
Related: Fun Kids Resources
Book Review & Report Templates
This book review template for kids includes the following questions:
What was the title of the book?
Who was the author of the book?
What did you like best/least about this book?
Would you recommend this book to your friends? Why or why not?
Which characters in this book did you like the best? Describe their traits
What happened in the story? What was your favourite part?
Print the pdf file by clicking the pictures below or the download button.
Simple One-Page Book Review Template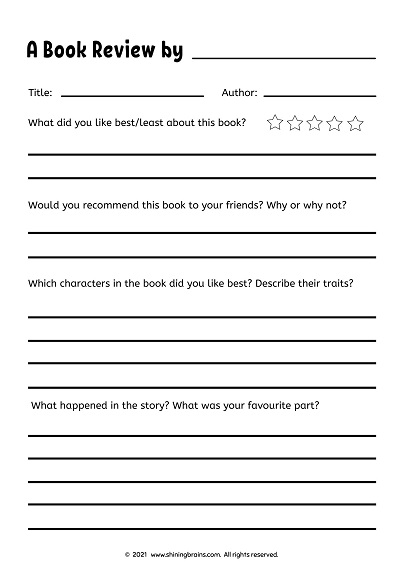 Book Report Template for KS1, KS2 and KS3 Kids
Click the below book report template for ks1 ks2 and ks3 kids to download.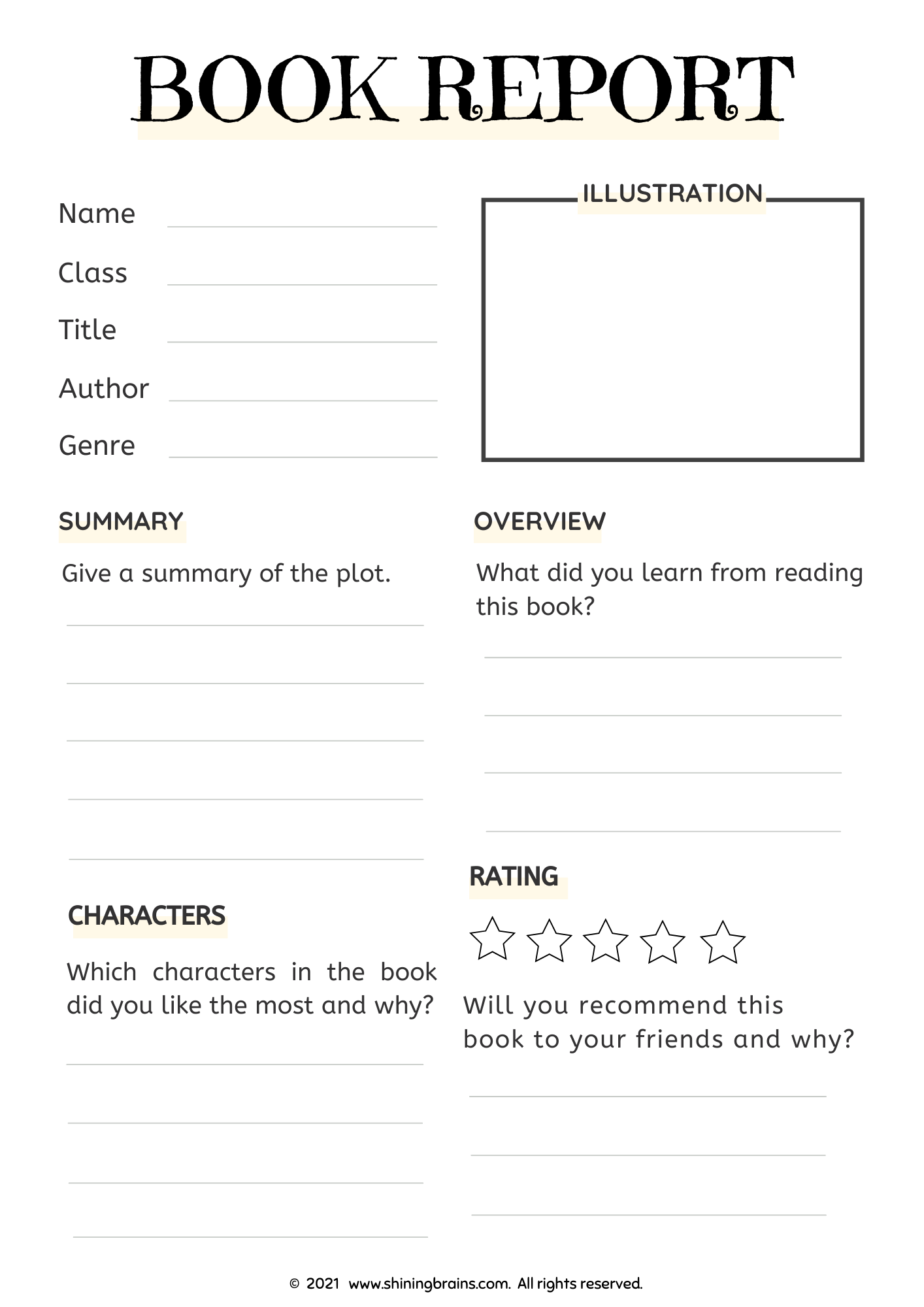 Fun Simple Book Review Template
Click the below book review template for ks2 kids to download.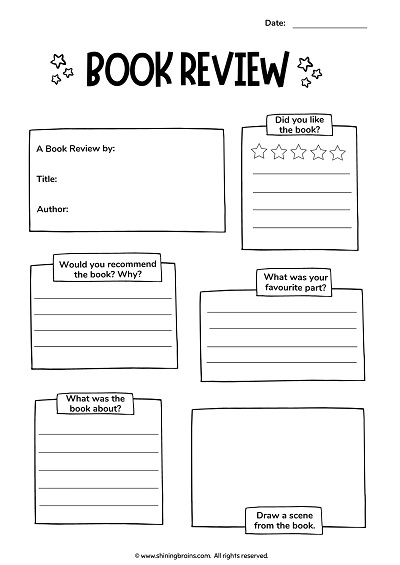 Book Report Template Worksheet
Click the below book report template for ks1, ks2 kids to download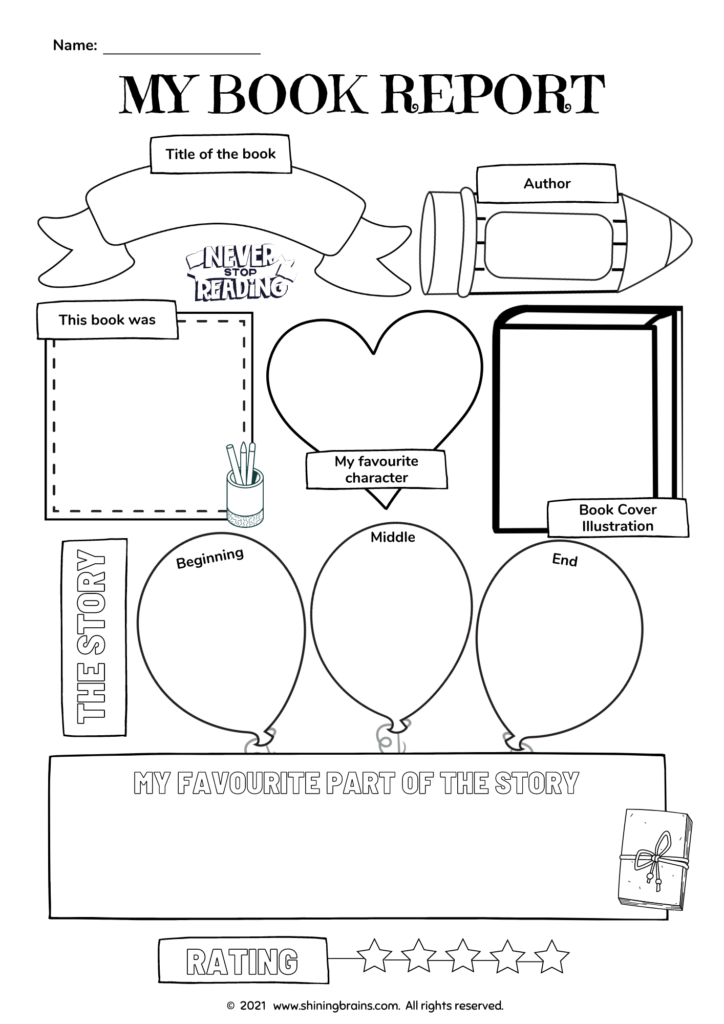 In-depth Book Review Template
Click the below extensive book report template bundle to download.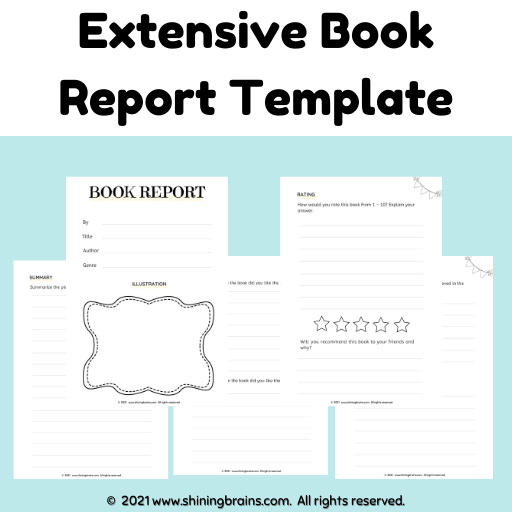 Also, Check: Quiz Questions for Kids
What is the purpose of a book review?
A book review serves the purpose of providing potential readers with insights and information about a book. It offers an evaluation of the book's content, style, and overall quality. Additionally, book reviews help readers decide whether the book aligns with their interests and whether it's worth investing their time in reading it.
What is the format of a book review?
A typical book review follows a structured format that includes an introduction, a brief summary of the book's content and context, an analysis of its strengths and weaknesses, a discussion of characters and themes, and a concluding evaluation. The introduction engages the reader, the summary offers a snapshot of the book, the analysis delves into its various aspects, and the conclusion provides a final recommendation or judgment. This format ensures a comprehensive and organized review that informs readers while conveying the reviewer's perspective effectively.
Why is it important to include a brief summary of the book in a book review?
Including a brief summary of the book in a review helps readers understand the context and premise of the book. This summary provides essential background information, introduces key characters and plot elements, and ensures that readers have a basic understanding of what the book is about before delving into the reviewer's analysis and opinions.
In a book review format, what does the "Introduction" section typically include?
The "Introduction" section of a book review typically provides a hook to capture the reader's interest. It may contain background information about the author, the book's genre, and its relevance. The introduction also sets the tone for the review and often includes a thesis statement that gives a hint of the reviewer's overall opinion.
What key information should be covered when discussing characters in a book review?
When discussing characters in a book review, key information to cover includes their names, roles, and significance within the story. It's important to analyze their development, motivations, and how they contribute to the plot's progression. Mentioning whether the characters are relatable or well-crafted adds depth to the review.
Why is sharing your personal feelings and opinions important in a book review?
Sharing personal feelings and opinions in a book review adds a subjective element to the analysis. Readers often connect with reviewers who express genuine emotions, and this can help potential readers determine if their tastes align with the reviewers. However, it's crucial to balance personal opinions with objective analysis to provide a well-rounded evaluation of the book's merits and drawbacks.