Understanding shapes is a necessary tool for learning many curriculum areas such as math, language and reading. Shapes awareness assists children in identifying and analyzing visual information. Colours and shapes also help in cognitive skill development. We have made these A4 worksheets which will be useful in teaching your kids 2d shapes. Make recognizing shapes fun with these simple 2d shapes worksheets. Get your youngster to learn 2d shapes with these exciting and educational activities which will enhance their focus skills.
The 2D shapes included in these worksheets are circle, square, oval, triangle, rectangle, pentagon, octagon, hexagon, heptagon, rhombus, trapezoid, star, heart, crescent, arrow and parallelogram.
Related: Horizontal Single-Digit Addition and Subtraction
Print the PDF file by clicking the pictures below.
Colour the 2d shapes Printable
In this worksheet, kids will colour the 2d shapes and try to remember shape names.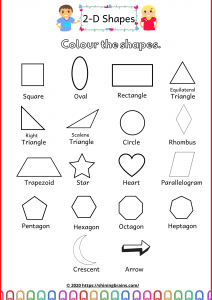 Colour by the code 2d shapes worksheet
Colour by the code activity will make it easy for kids to identify 2d shapes and will help in their cognitive development.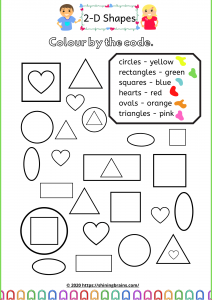 Colour the pictures that match the 2d shape
This 2d shapes worksheet will help kids to relate shapes with real world.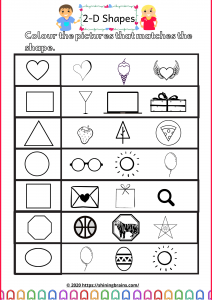 Shape Patterns
Cut and paste the correct shape to complete the pattern.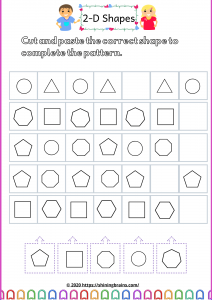 Count the shapes
Colour and count the shapes to answer the questions.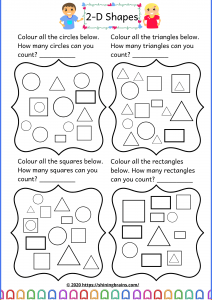 Count the sides and corners
In this worksheet, Kids have to count the number of sides and corners of the 2d shapes.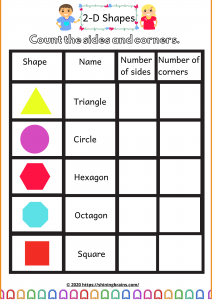 Cut and paste the 2d shapes
Cut and paste the shapes to make the picture of a house.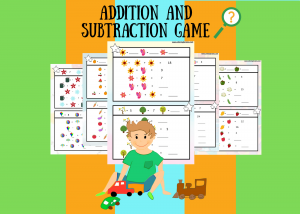 I hope you enjoy these fun shapes worksheets.
Also, check: CVC Words Worksheets