After learning ten frames, what comes next is twenty frames. Twenty frames are a great resource for teaching kids number bonds to 20. This activity will keep kids engaged and they also colour the monsters and other characters in the worksheets. Twenty frames can be a little problematic for kids but these fun worksheets will make the process playful and easy for kids. These worksheets contain numbers from 1-20.
For 1-10 frames worksheets check out Ten frames Resources.
For numbers from 1-100 visit hundred frames worksheets.
What are twenty frames?
Twenty frames are rectangular frames that are separated into four rows with five equal blocks in each row. Twenty frames are used to represent numbers.
Introduce teen numbers to kids with these engaging worksheets.
These worksheets contain ten frames with dots.
Colour to match the numbers (1-20).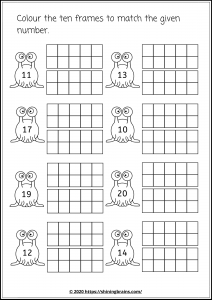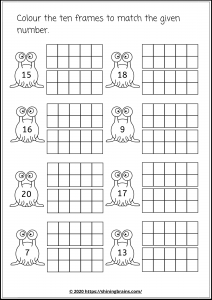 Count and write how many activity.