Find a productive best study timetable to help you study at your home comfort.
As we all know, it is tough to balance life and work perfectly. There will be recurring struggles you will need to go through to achieve your goal. Remember if you want to achieve something magnificent, the path will always be rugged. Students find it difficult to maintain their attention while studying. So how is it possible to remain mindful? The right schedule can help you remain focused and interested. Below we have listed down a few steps and tips on how you can get the most out of a study timetable.
If you want to succeed in whatever you are doing, the studies have shown that the key to success is to become organized and efficient.
How to be organized?
Having a well-managed routine is essential to establish regularity and a sense of comfort. The most lucrative step in organizing would be to schedule your daily routine. Scheduling your daily activities will bring the right amount of balance to your life.
A proper study timetable will ensure that none of your time is gone to waste.
You will conduct tasks with more confidence as there will be more security and reassurance. You will know what is coming next and will plan things better. Eventually, You will gain a firm grim and excel in no time.
Steps to create a best study timetable
Follow the four steps or techniques below to make the best schedule to study at home.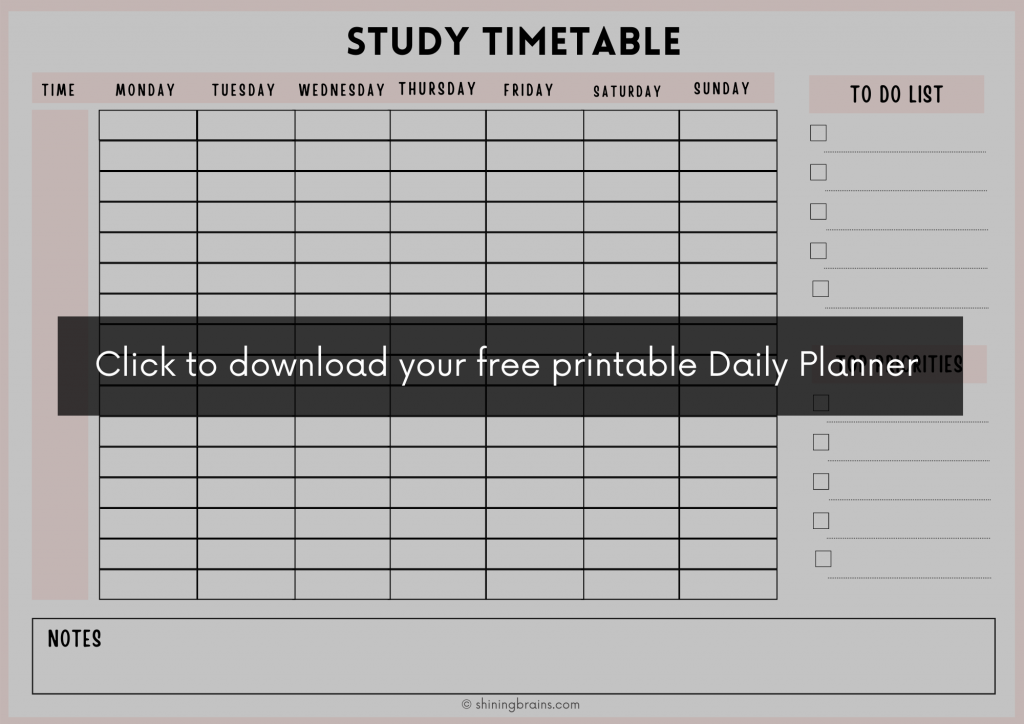 1) Analyze and Map
Firstly, write everything down on a piece of paper. BY everything means your current schedule, desired schedule, deadlines, goals and extracurricular activities, all of it.

2) Examine and Organize
Secondly, go through this paper and then set up your priorities and goals. Organize the importance of each task and set a time according to this for each one.
3) Print a Timetable or Create it
In the end, give this routine a format. You can either download our pre-build printable timetables to fill in or make one with colourful markers for yourself.
4) Add Required Breaks
Don't forget to add breaks. A little break will make you more alert and mindful. But, we sometimes do this crazy thing that takes a break of 1 hour and study for half-hour. We need to manage our day very carefully. If we revise or work for one hour, a five to ten min break is a lot. But every person has his her way of doing things. Hence, it absolutely depends upon you how you want to take things forward.
To help you out, we've rounded up our best free study timetables for students. From Disney timetables for kids to effective study planners for youngsters.
We have also made a daily planner printable for you which you can use to plan your daily tasks.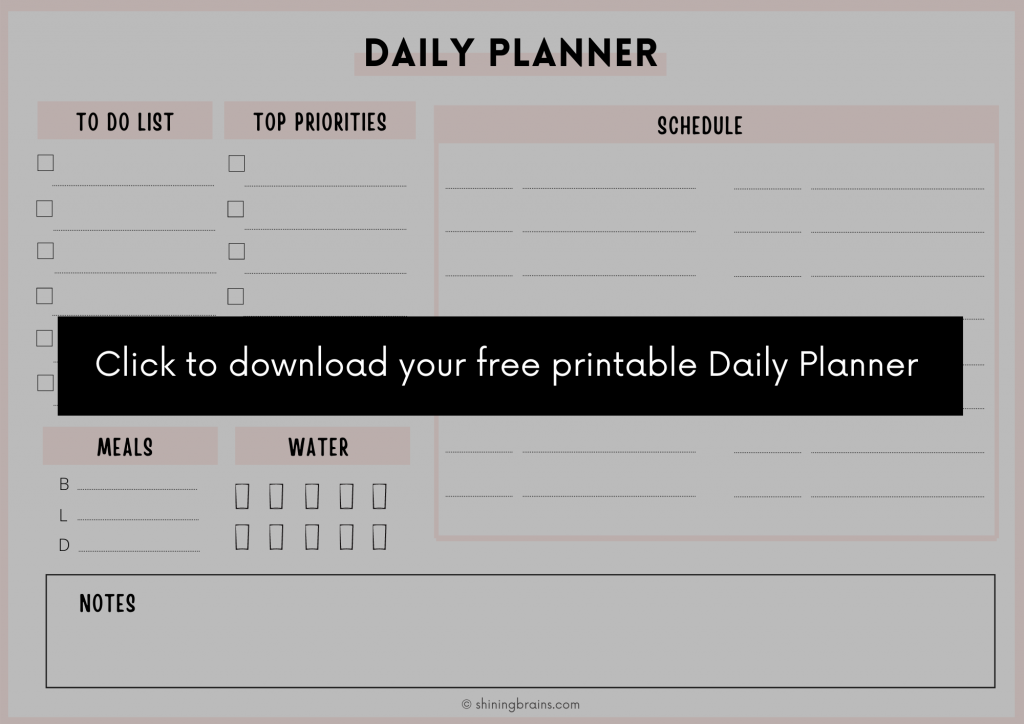 10 Tips for students to study effectively
Wrong study habits can affect your learning and will provide you with no results. We have noted down some much-needed tips and tricks for students. These tips will help you understand what to do and what not to do while studying.
1) Stick to the routine
Give yourself time to get used to this new routine. It will get you the most significant results, slowly but surely. Just remain confident and consistent. As we know, slow and steady wins the race. Study every day and prioritize it on top.
2) Build your own study environment
Study at the time you feel you memorize fast and the place where you are more satisfy studying. Studies have shown that studying morning or evening each has its pros and cons. Hence study at a time that makes you more comfortable. Don't follow others daily schedules. Build the one that suits your routine. Acting upon others timetables or wrong study timetables will only make you change the routine daily. Take ideas and help from others. Yet, it's only you who knows how much time you will take to memorize one lecture. You can be fast compared to other fellows or slow. Just take your time and try to give your best.
3) Plan ahead and set time limits
Try to do everything before the deadline. When you are making your timetable, never keep prime tasks for the last moment. Use daily planners, weekly schedules and wall calendars to keep you focused.
4) Take care of yourself and take breaks
If you don't want to decrease your performance, give yourself time. Eat healthily and drink plenty of water. Take a break whenever you feel tired. Maybe, take a snap of just 5 minutes. Go for a walk or do physical exercise to remain active and vigilant.
5) Teach others what you know
Sharing your knowledge with others will increase it. Teaching others will enhance your ability to retain information. When we teach others, we discover the gaps in our understanding and we better ourselves. Above all, there is a possibility that while teaching, you will learn something valuable from the other person.
6) Don't feel shy and ask for help
Guidance is always helpful. Whenever you are stuck on something, instead of wasting time, ask for help. You can go to your teachers, elder siblings or fellow students.
7) Highlight and annotate
Make your own study notes and highlight important points. It will come in handy at the time of final revision. At the same time, by writing things down, you will remember things fast.
8) Put your knowledge to the test
Ask your family members or friends to take your quiz again and again after revision and before it. By this method, you can get to know which key points you forget every time.
9) Don't cram
Cramming can give you a lot of stress. DON'T TRY to overwork your brain. Just take a deep breath and study regularly. Never keep things for the last moment.
10) Get good sleep
If you would be sleep deprived, you will never be able to do well in your exams. Get at least 5-8 hours of sleep to keep yourself active during the day and retain information.
It should be your foremost priority to protect your brain from stress. Give your brain an appropriate time to process information. And, never lose hope. If you have worked hard, it doesn't matter what you have achieved in the end. There must be some great results waiting for you in the future. Just remain focused and keep trying.